COVID-19 is an unusual and unpredictable virus throughout: structure, contagiousness and pathogenicity. The virus may lead to severe pneumonia, acute respiratory distress syndrome, sepsis, multiple organ failure, acute kidney and heart damage. Nevertheless, Russian doctors have learned to successfully fight this disease.

In April 2020, in St. Petersburg and Transbaikalia studies were conducted using a moderate to severe course of COVID infection. The use of thymus peptides in the complex therapy restores and boosts the immune system, increases the number of T-lymphocytes and decreases C-reactive protein by 5-6 times. Also it reduces the indicator of dangerous thrombus formation by approximately 5 times that does not allow the transition of the disease to more severe stages. Thus, bio-regulators based on thymus peptides may become an effective addition to basic therapy. They help to eliminate immune system defects and elaborate adequate immune response.
One of the most efficient ways to support your body is with PEPTIDE COMPLEXES.
The crucial components are thymus regulatory peptides for the immune system - CRYSTAGEN®, VLADONIX®, PROTECTOR 3 Plus® and regulatory peptides for the lungs and bronchi - CHONLUTEN®, BRONCHOGEN®, TAXOREST®.
Alternatively, you can take multifunctional products REVILAB ML01®, REVILAB ML02® for the immune system and REVILAB ML05® for the respiratory system. They will help your immune system to fight viruses and chronic diseases, maintain the metabolic processes and strengthen the antioxidant defense.
Peptide complexes REVILAB SL03® and REVILAB SL06® both administrated sublingually will strengthen your immune system too. Revilab SL 03 contains peptides of epiphysis, immune system T-link and immune system B-link. Revilab SL06 for respiratory system contains peptides of B-cell branch of immune system, bronchi, lungs and stomach walls.
THYMALIN® can be considered as an immunoprotective peptide drug for the prevention of COVID-19. The peptide preparations of the thymus, ("Thymalin"', peptides EW/"Thymogen" and KE/"Vilon") was shown to be effective in the treatment of many diseases and conditions associated with decreased cell immunity and phagocytosis after radiotherapy and chemotherapy in cancer patients. It also had an effect in many other clinical setting such as cases of acute and chronic infectious and inflammatory diseases, overuse of antibiotics, oppression of the regeneration processes in post-traumatic and postoperative complications, obliterating diseases of arteries, chronic liver or prostate diseases, and complex treatment of certain forms of tuberculosis. Application of "Thymalin" in different clinical studies improved immune functions significantly (increased amount of T-lymphocytes, T-lymphocytes-helpers, enhanced reaction of lymphocytes blast-transformation in presence of phytoheamagglutinin and Concanavalin A were registered, as well as reinforced reaction of phagocytosis).
Read more https://pubmed.ncbi.nlm.nih.gov/33237528/
Thymalin as a Potential Alternative in the Treatment of Severe Acute Respiratory Infection Associated with SARS-CoV-2
THYMOGEN® is an effective immunomodulator that normalizes the functions of the immune system. It strengthens weakened immunity and reduces an inadequately high immune response.
For the reason that Thymalin and its constituent Thymogen used for viral infections and for bronchoprotection, it can be assumed that these drugs will be effective in the complex therapy of coronavirus infection.
The key to staying healthy is to give your body the adequate support during those hard times. Maintain strong immune system with peptide complexes and non-peptide bio regulators.
COVID-19 PEPTIDE PREPARATIONS
THYMUS NATURAL PEPTIDE // Protects the...
THYMUS PEPTIDE in Sublingual Form //...
BRONCHIAL MUCOSA MEMBRANE PEPTIDE in...
THYMUS NATURAL PEPTIDE // Protects the...
BRONCHIAL MUCOSA NATURAL PEPTIDE //...
Thymus Extract (Thymulin) natural...
A drug for decreased performance,...
A drug for decreased performance,...
An effective immunomodulator to...
Immunostimulating peptide...
Biologically active substance (BAS) to...
Product for prophylaxis and early...
Product for prophylaxis and early...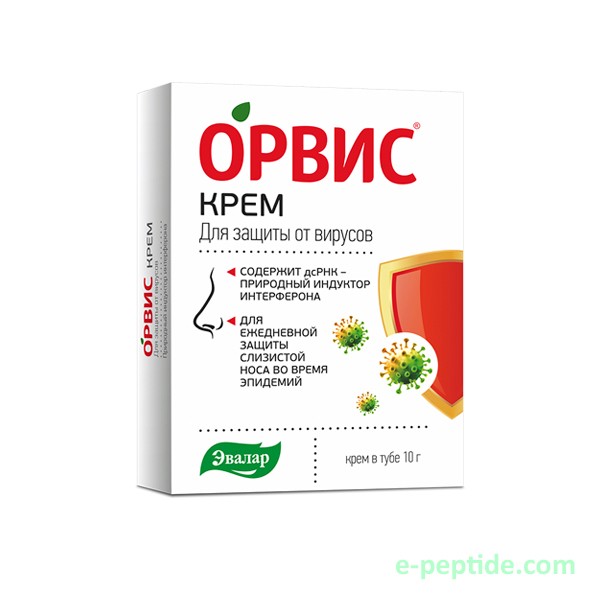 Unique Anti-viral cream based on dsRNA...
Active substance dsRNA lyophilisate...