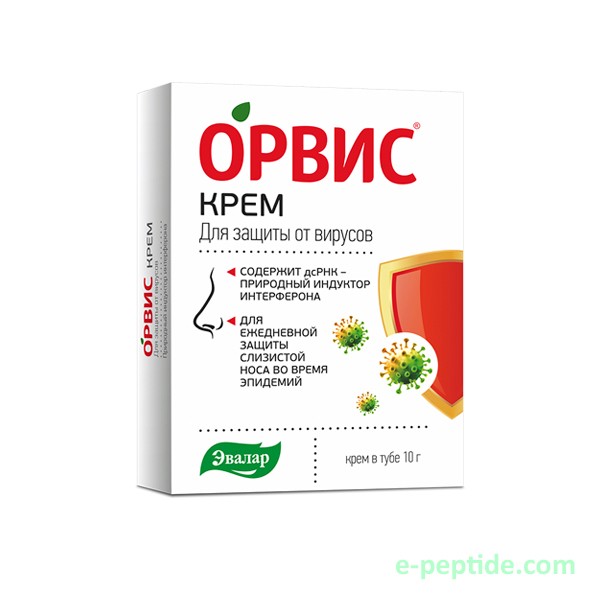 ORVIS - Anti-viral Cream
The first anti-viral cream in Russia based on dsRNA of natural origin.
Form release: cream 10g
Description
ORVIS® CREAM - the first anti-viral cream in Russia based on dsRNA of natural origin.
Active substance:
Double stranded ribonucleic acid (dsRNA).
Action:
It has an antiviral effect, prevents the occurrence of herpetic lesions of the skin and mucous membranes, promotes tissue repair, can be used in pre-epidemic periods and during epidemics of respiratory infections, in order to reduce the risk of disease, is compatible with ARVI and influenza drugs, has an additional moisturizing effect
Description of the properties of double-stranded ribonucleic acid (dsRNA)
The original active substance dsRNA was developed by the Latvian Academy of Sciences as a high molecular weight inducer of natural interferon. The clinical efficacy of dsRNA was studied in various clinics and institutes in Latvia and the former USSR in the 80s of the last century. It has been proven that it has a pronounced immunomodulatory effect, stimulates T-cell and humoral immunity2. A distinctive feature of dsRNA is that interferon is detected in human serum within 4-8 hours after applying the cream3. DsRNA is used as a therapeutic and prophylactic agent for herpes diseases, influenza, adenovirus and rhinovirus infections, for hepatitis B, as well as in immunotherapy of tumors. Thanks to dsRNA, it became possible to avoid the disease by strengthening the immune system (prevention) 4.
Indications for use:
To protect against viruses, the innovative ORVIS cream is suitable. It contains naturally occurring double-stranded ribonucleic acid (dsRNA) that helps protect against the harmful effects of viruses, including during the cold season.
Ingredients:
water, liquid paraffin, anhydrous lanolin, paraffin, pentaerythritol dioleate, sodium chloride, methylparaben, propylparaben, larifan (dsRNA).
Dosage:
During epidemics of respiratory infections, for prophylactic purposes, adults and children from the age of 14, apply a thin layer on the outer part of the nasal passages 2-4 times a day; for herpetic skin lesions, apply to the skin 2-3 times a day.
Form release:
10g

Guaranteed authenticity and quality:
100% Original from EVALAR (Russian Federation)
Development and production:
EVALAR (Russian Federation)
ORVIS