EXPERALTA PLATINUM Luxury Cosmetics
A new formula of biologically active cosmetics in a luxurious performance to transform your skin.
EXPERALTA PLATINUM is a beauty laboratory that includes the most innovative cosmetic technologies and natural ingredients with the highest possible biological activity.
NATURAL INGREDIENTS FOR BEAUTY AND LONGEVITY
The basis of the cosmetic line is the Altai tinder fungus, also known as the legendary "mushroom of immortality". Its unique regenerating and antioxidant properties have been known to mankind for more than two millennia.
An effective means of antioxidant protection, rich in essential amino acids and polysaccharides.
The impact of the Altai tinder fungus on the skin:
stimulates collagen synthesis;
supports youth and cell health;
strengthens skin immunity.
TRUE SCIENTIFIC APPROACH
The secret of the amazing transformative power of the EXPERALTA PLATINUM series lies in the effective combination of herbal and innovative ingredients. Transformation formula: X50 + colloidal platinum.
X50 - system of high-precision delivery of active substances.
Microcapsules of the X50 system - ultra-precise transport of active substances into our skin cells. Inside each microcapsule - active substances (payload), and outside - signal proteins that ensure correct recognition of "Friend or foe" and unhindered penetration inside.
INDIVIDUAL APPROACH TO EVERYONE
Luxurious EXPERALTA PLATINUM products are easily adapted to the needs of the facial skin:
complete care and prevention of aging for all skin types;
individual beauty formulas for solving anti-aging problems.
Based on valuable Siberian plants and innovative scientific ingredients, targeted products restore youthfulness, radiance and elasticity to the skin.
EXPERALTA PLATINUM SET - cleansing oil facial and smart serum.
DAY CREAM WITH PLANT PEPTIDES - day cream with plant peptides nourishes, strengthens and restores the skin.
REVITALIZING PLANT PEPTIDE NIGHT CREAM - intensive cream with plant peptides restores and renews the skin at night.
COSMETELLECTUAL CREAM - an effective multi-level effect maintains and prolongs the youthfulness of the facial skin.
CELLURAL REVIVAL NIGHT CREAM - cream with a unique combination of colloidal platinum and peptides.
COSMELLECTUAL SERUM - immediate wrinkle reduction, even and radiant complexion.
FLAWLESS LOOK TINTED MOISTURIZER - cream moisturizes the skin and delicately evens out the tone of the face.
BAKUCHIOL AMPOULES - ampoule concentrate with BAKUCHIOL.
HYDRA PLUS AMPOULES - ampoule concentrate MOISTURIZING.
LIFT AND FIRM AMPOULES - active ampoule concentrate LIFTING AND ELASTICITY.
SKIN RENEWAL AMPOULES - ampoule concentrate to restore elasticity and even skin tone.
EXPERALTA PLATINUM Luxury Cosmetics
It contains HYDROPHILIC CLEANSING OIL...
The revolutionary youth-protecting...
The innovative formula compensates for...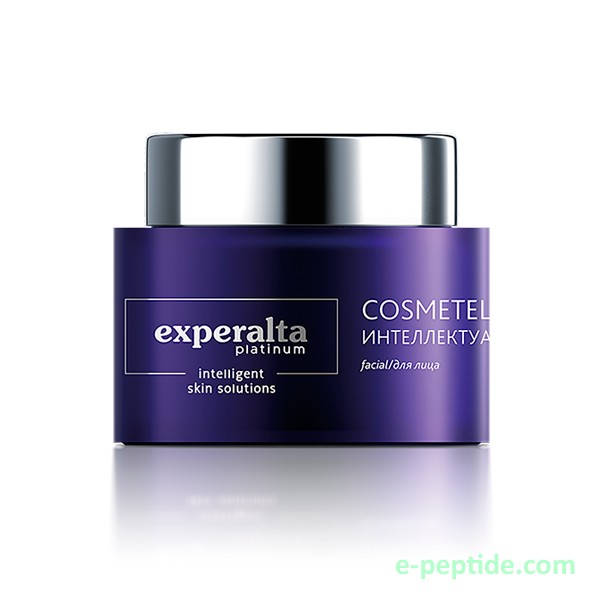 An effective multi-level effect...
A rich night cream with a unique...
Hyaluronic acid combined with precious...
Moisturizing Tinted Cream SPF 15...
Reduces the depth of wrinkles, gives...
Moisturizing concentrate. The formula...
Visible wrinkle reduction effect within...
A unique formula with BioDTox© plant...