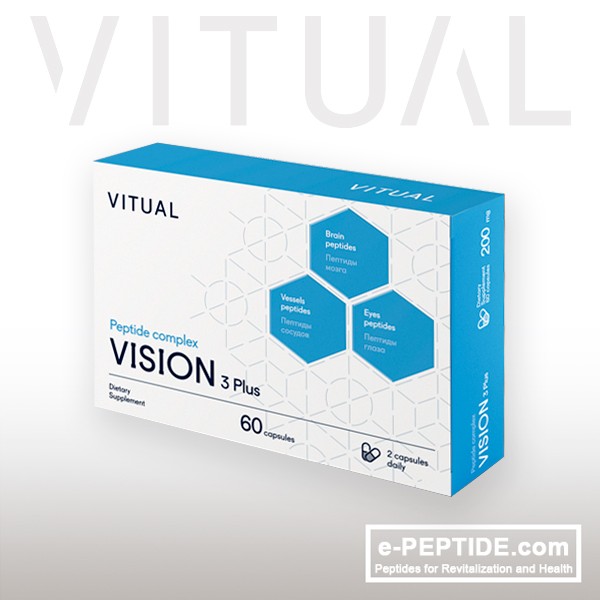 VISION 3 Plus 60 - peptides support and restore visual function
EYES, BRAIN & VESSELS Peptides //
Complex of Natural Polypeptides (Cytomaxes) Supports and Restores Visual Function

3 in 1 // 60 capsules per pack
With shipment: STANDARD INTERNATIONAL SHIPPING: 28,00 €
Description
Vision 3 Plus is a complex of natural polypeptides that support and restore visual function. The use of bioregulators allows to support vision at increased loads, reduce the risks of pathology development, improve visual acuity and electrophysiological indices of retinal neuronal function. Bioregulators allow to improve the nourishment of the eye tissue and support its functions at high loads. Reception of the complex will be useful for people who often put their eyesight under heavy strain while watching TV, reading in a poorly lit place or while driving.
Peptide bioregulators are organic substances that can stimulate biological processes in the body and include mechanisms for independent recovery. Thanks to the discovery of the method of obtaining bioregulators, scientists were able to synthesize a new type of preparations. They can slow down the rate of ageing, prolong active longevity and reduce the risk of developmental disorders associated with age-related changes.
Peptides under the brand name Khavinson Peptides (International Research Foundation, headed by Professor V.H. Khavinson, who has been studying peptide bioregulators and geroprotectors for over 45 years) is a group of substances that can increase life expectancy. In cooperation with this world-famous brand Vitual participated in the creation of polypeptide complexes.
Usage:
useful for people who often strain their eyes during work
improvement of visual acuity and electrophysiological indicators
improvement of the function of retinal photoreceptors
improved metabolism of brain neurons
improved nutrition of eye tissues
strengthening of vascular walls.
The complex process of the visual organ consists of correct image focusing on the retina, perception of light and colour, transmission of information to the brain and the speed of its processing. Vision 3 Plus allows you to affect all parts of the visual organ and improve its function.
Vision 3 Plus safely and gently helps to improve vision function:
Natural peptides improve the ability of eye tissues to synthesize their own proteins, enzymes and other biologically active substances.
Peptides do not correct vision during use as glasses or lenses. They have a long-term effect, which is maintained even after the application course.
Vision depends on the state of the cortical brain, which processes information from the retina. By improving the production of neurotransmitters using peptides, it is possible to maintain a high rate of transmission of nerve impulses and the quality of brain function.
Bioregulators are not hormonal substances, they start the synthesis of own hormones, biologically active substances and proteins. The influence extends strictly to those tissues and organs that belong to the peptide type.
Ingredients:
Each capsule includes 30 mg peptide complexes (CYTOMAXES) A3, A5, A11 :
eyes peptides / Visoluten 10 mg
brain peptides / Cerluten 10 mg
peptides of vessels / Ventfort 10 mg.
Dosage:
Adults: 1-2 capsules twice a day.
Form release:
60 capsules of 200 mg.

Guarantee:
100% Original from the Vitual Laboratories (Russian Federation).
Production:
Vitual Laboratories

Khavinson Peptides (International Research Foundation).