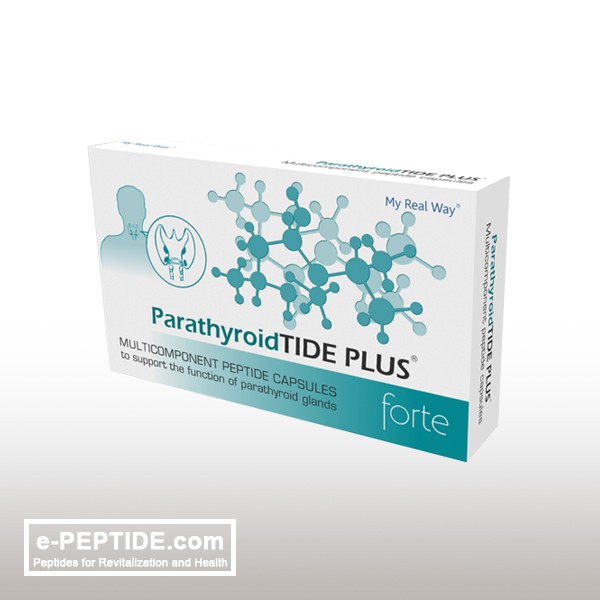 PARATHYROID TIDE PLUS FORTE peptide complex to support the function of parathyroid glands
Multi-component peptide capsules with intensified amount of natural peptides to normalize the functioning of the parathyroid gland. Prevention and complex therapy.
30 capsules
This product is shipped from the EU.
Normally this product group is delivered faster than others.
Description
PARATHYROID TIDE PLUS FORTE is a multi-component peptide complex - an innovative and highly effective product for maintaining women's health, protecting and regulating the functions of the reproductive organs.
Multicomponent peptide bioregulator with intensified properties ParathyroidTIDE PLUS is a natural and effective product to normalize and stimulate the work of the parathyroid gland, produce hormones and prevent calcium metabolism disorders.
How the peptide bioregulator for the parathyroid gland works
ParathyroidTIDE PLUS is a natural peptide complex designed to support parathyroid functions and calcium balance. The composition of the bioregulator is intensified with an additional amount of concentrated peptides of animal origin, which act directly on the DNA cells of the parathyroid gland tissues, restore damaged or old cells, activate protein synthesis processes, regulate and maintain hormone level production, normalize calcium and phosphorus metabolism by activating body's resources.
The composition of the product is supplemented with minerals, vitamins, extracts of medicinal herbs, which have a beneficial effect on the proper functioning of the nervous and musculoskeletal systems. The bioregulator is based on parathyroid peptides and is safe and non-toxic.
PURPOSE OF PARATHYROID TIDE PLUS FORTE:
normalization of functions of the parathyroid glands;
complications associated with insufficient intake and absorption of calcium (malabsorption in the gastrointestinal tract, renal failure, vitamin d deficiency, etc.);
diseases of the parathyroid gland associated with calcium deficiency;
higher requirement for calcium (osteoporosis, after bone injuries, after osteoarticular surgery);
hyperparathyroidism, hyperparathyroidism;
prevention of muscle fatigue and weakness associated with hyperplasia of the parathyroid glands;
prevention of muscle spasms, muscle anemia associated with hypocalcemia;
maintenance of parathyroid functions during aging;
after thyroidectomy.
Natural peptide complexes are designed to activate the body's resources.
My Real Way peptide bioregulators can be combined with any form of medication and integrated into any therapy. Our peptide complexes are recommended for the prevention of diseases, neoplasms, tumors, as well as in the composition of pre- and postoperative, chemotherapy and radiation preparations for a quick recovery.
Not all types of peptides are effective for therapy because their length and size are critical, as is the capsule.
The therapeutic effect is achieved due to natural peptides of animal origin only in a vegetable capsule. This is exactly what we offer our consumer - short bioactive low molecular weight natural peptides of animal origin in a non-gelatin capsule.
Peptide premixes are obtained from calves (young cows of the first year of life). Young animals are grown on isolated farms, excluding any possibility of infection.
Each peptide chain consists of 2-5 amino acids. The molecular weight depends on the premix and ranges from 280.34 g/mol to 588.55 g/mol. Each premix has its own series, where the first letter "N" means "Natural", and the second letter indicates what it is aimed at. All the vital nutrients in the capsule enrich and enhance each other's action.
Multi-component natural peptide bio-regulators My Real Way contains PEPTIDES, VITAMINS, MINERALS, HERBS in each capsule.
Main components:

BCAA amino acid complex (peptide complex NC/1, L-phenylalanine, L-threonine, L-tryptophan)
Calcium 145 mg 18,13 % (NRVs 800 mg.)
Magnesium 75 mg 20 % (NRVs 375 mg.)
Vitamin D 10 µg. 200 % (NRVs 5 µg.)
Vitamin K 5 µg 6.66 % (NRVs 75 µg.)
* NRVs - nutrient reference values
The capsule is made of hypromellose - a special stable polymer of vegetable origin.
Recommendation for application:
Adults take one capsule in the morning on an empty stomach 30 minutes before a meal with plenty of water for 1 month. A longer intake of a product from 2 to 3 months is allowed.
IMPORTANT! Peptide bioregulator PARATHYROID TIDE PLUS is to maintain functions of the parathyroid gland is recommended as a preventive product in addition to the main course of therapy prescribed by the attending physician.
Form release:
30 capsules

The capsule of the preparation is produced from a special stable polymer of plant origin without impurities in the form of chemicals - hypromellose.
Contraindications:
Increased individual sensitivity to the components; period of pregnancy and breastfeeding; underage children (due to lack of data)
Guaranteed authenticity and quality:
100% Original from My Real Way
The International Alliance My Real Way consists of scientists, research institutions, manufacturers and trade companies, holistic medical centers, naturopathic, osteopathic practitioners, nutritionists from different countries united by one goal - development, production, evaluation of the effectiveness of multicomponent peptide bioregulators for cell regeneration.
Development and production:
The basis of My Real Way bioregulators - short natural bioactive low-molecular peptides with therapeutic effect purified of admixtures.